Smart Office Automation System
Amidst busy and complex living, it is important to find comfort and convenience. Office Automation solutions integrate information technologies with office environment to provide centralized control and automation of multiple office electrical equipment. Our wireless office automation system is highly
Retrofittable
Reliable
Scalable
Highly Secure & Extremely safe
Customizable and Affordable
Smart Switch
The Smart Switch is an intelligent switch designed for routine functioning, including activating lights, fan, air conditioning and geysers, through wireless operation. The way standard switches function has changed with our Smart Switch. You may activate your switches at home or away from home with a single touch. You may also use a mobile app (Android /iOS) or an IR remote. All ON/OFF buttons on these touch panels provide you the right to switch on or off all the gadgets at a time when you arrive or depart your area.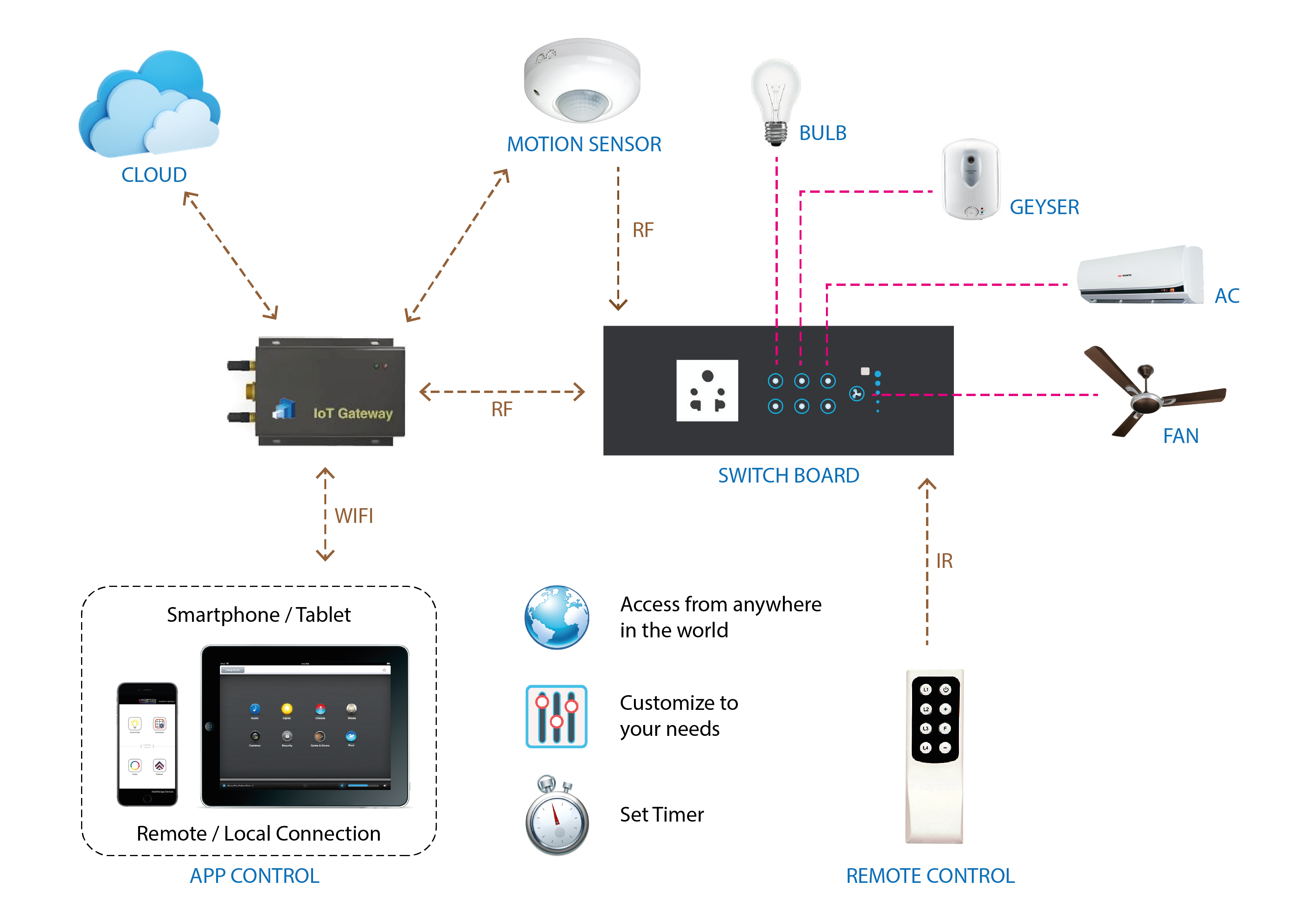 Oil Dispenser
In workshops and industrial plants, measurement of lubricant quantities is a vital need. In some businesses, it is so critical to have the capacity to do correct measurements that it might affect the difference between profit or loss. In other situations, incorrect measurements or inability to measure can lead to significant (or even terrible) outcomes.
Our solution consists of a metering equipment and pump that may be linked to a barrel and a microprocessor-based supplier. The pump is operated pneumatically. Suitable for the distribution of engine oil, diesel oil, fluid and anti-freeze/anti-coil automatic transmission with a maximum viscosity of SAE 140.
Product Features:
Uses Oval Gear Meter For Optimum Accuracy.
There Are Five Variable Preset Totals Available For Use.
Resettable Barrel Totaliser.
Six Digit Accumulative Totaliser.
Non-Drip Nozzle.
Oil Management System
Our computerized oil distributor for workshops and garages is particularly developed. The appropriate quantity of oil is dispensed directly from the barrel into the vehicles. The system includes the unit to measure and is connected to a dispensing computer. The computer programme delivers the Job Card number, the oil quantity, the oil kind, and technicians allowed to use petroleum. The unit technician produces the RFID card and inputs the job card no. Cross-checks the information and it will discharge the amount of oil programmed out of the software if it matches the information supplied by the software.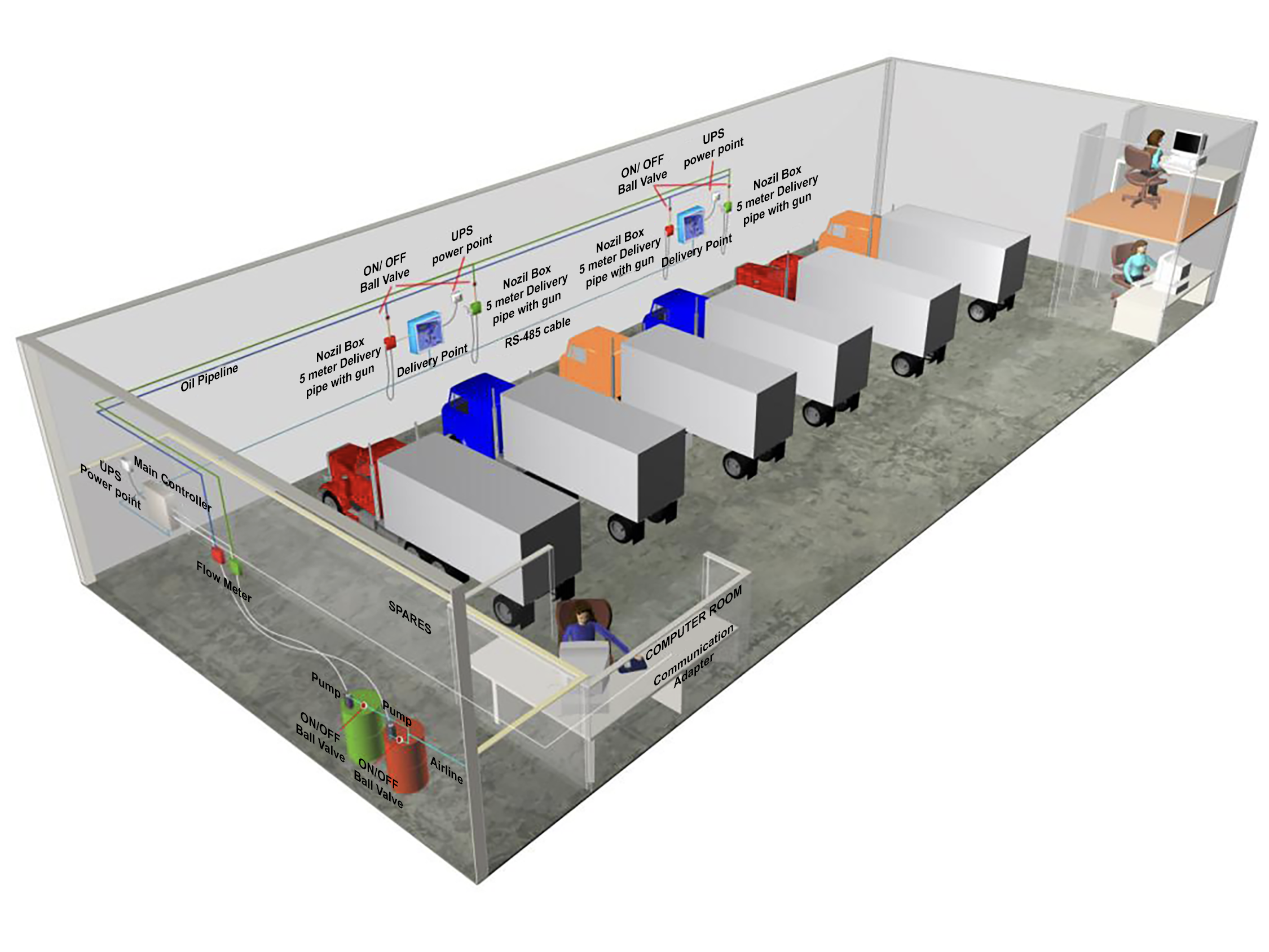 The data is communicated to the software on the computer after the programmed oil has been disbanded. The transaction is carried to the computer each and every transaction. It keeps responsibility down to decrease. The barrel pump is operated pneumatically and is supplied with oil through a conduit from the barrel pump to the unit. This is a system based on a microprocessor. It comprises of an RS-385 communication port, an oval gear metre for high accuracy metering, a cumulative counter, an illuminated LCD display, a reader for RFID cards, a non-drip nozzle, and a keypad ( 5 programmable preset keys & 5 control keys with life time warranty ). The barrel has a vacuum indicator built in. A pneumatic pump is provided for the system, which may be installed directly on the barrel. It includes an easy connection to a computer to keep 1,000 transactions.
The programme Lube Management records each transaction online and provides reports for the lube on the back office computer. In order to reduce oil losses, the Workshop manager may monitor oil use and have complete accountability records at his disposal.
Product Advantages:
Avoid Spillage
Loss Of Lubes In A Garage Is A Minimum Of 3%
Avoid Excess Dispensing. (Accurate Metering)
Drop To Drop Accountability Of Lube
Secured Access
Better Housekeeping. (No Spillage)
Time Saving (Man Hours Saving, Turn Around)
Saving In Bulk Purchase Of Lube Oil
No Litter Disposal (Packaged Oil)
Helps In Workshop Automation
Multi User Facility
Energy management system
Energy management system are frequently used for monitoring, measuring and controlling their electricity construction charges by individual corporations. Our EMS-Energy Management system (EMS-Energy Management system) may be used to centrally analyse equipment, such HVAC Units and Lighting Systems at a number of sites such as retail, grocery and cell phone tower. Energy systems can also include services for the measurement, sub metering, and monitoring of facilities and building managers, enabling them to acquire data and insights that enhance information on energy activity throughout their locations. Our expertise in EMS are
1. HVAC system
Not all types of HVAC system work the same way. Some are faster than others while others serve larger environments. In short, some HVAC system are more effective than others in certain situations.
Commonly HVAC system are grouped into four main systems starting with the heating and air conditioning split system, which is the most ordinary implementation of residential applications encompassing both inside and outside installations.
A split system is known for its simplicity, efficiency and low cost. That being said, the second type (hybrid heat split system) is actually found to benefit over the first one from an energy efficiency standpoint since the application utilizes heat pump systems.
Its goal is to provide thermal comfort and acceptable indoor air quality, HVAC system control the ambient environment (temperature, humidity, air flow, and air filtering). HVAC is an important part of residential structures which making it safe and habitable.
The system also ensures cleanliness of air inside the said environment
By properly maintaining and monitoring of the HVAC System a minimum Savings of 40% can be achieved Core values.
From our Systems the entire HVAC System can be remotely monitored and controlled with ON/OFF scheduling and temperature control.
Manage all the Systems in one single platform.
Coordinate various Systems.
Provide a comfortable working environment in an efficient way.
Control, monitor and optimize building service.
Reliable and cost effective.
Equipment life cycle enchantment.
Recording utility consumption, reporting and analysis.
Alarms for crossing pre-set limit.
2. Smart DG
The Smart Diesel Generator Monitoring solution comprises of integration of SET Infotech Gateway with the communication port of the engine control unit for capturing of the required data from various sub-systems of the diesel generator and passing it on to the backend platform. By monitoring diesel for generators a minimum Savings of 20% can be achieved on the diesel bill.
Core values:
Real-time monitoring data for diesel generator.
Optimization of diesel usage during peaks in demand.
Smart management of devices ensuring best usage of DG capacity.
Low installation cost.
Short delivery periods and installation period.
Higher efficiency.
More efficient plant performance under part loads.
Suitable for different type of fuels such as low sulphur heavy stock and heavy fuel oil in case of large capacities.
Minimum cooling water requirements.
Adopted with air cooled heat exchanger in areas where water is not available.
Short start up time.
3. Electric Fire Pump
For obvious reasons your electric fire pump is one of the most important pieces of equipment in your facility. As such the National Fire Protection Association mandates periodic testing accordance with their standard NFPA-25. We will be able to provide a unique yearly inspection and report that will help you meet all the requirements and provide peace of mind.
Our smart pannel brings all the pump and engine controls and diagnostics into a simple-to-operate and easy-to-read panel. The panel forces back to your preset (not back to idle like others) and shows alarm on main page if cavitation is detected.
The Smart Panel has features such as:
Large Vernier Throttle Control: Easily allows the pump to operate in either pump pressure or engine RPM mode.
High-resolution Controls: Can easily be read in sunlight with a WVGA waterproof 800 x 480 panel with 7" high contrast color LCD screen display.
Engine Data: Including battery voltage, oil pressure, temperature and RPM.
Pump Data: Including inlet pressure, pump discharge pressure, set point, water tank level, foam tank level (opt), and air compressor temperature and pressure (opt).
Self-Testing Panel Technology
The Self-Testing Technology can be applied to pumping stations of any size. In the future, there will be networks of Self-Testing Hydrant Boosters that can be monitored through a system of telemetry. Central commanders can have complete knowledge and confidence that the micro-grid hydrant boosters are integral components within the community that will work when they are needed. Reach out to us and let us help solve your water pressure problems.
Total IT Management
Focusing on software technology, we provides total end to end IT management solutions and services, through seamless integration of software, hardware and services, as well as technology and management capacity.